Alaska, Part 2: The After Party
So, you saw the wedding ceremony from Monday. I hope you enjoyed my first day in Alaska. But the best part of the whole trip is yet to come, the wedding reception and the rest of my time sight-seeing.
But first, picture time in the Alaska Botanical Gardens.
After an hour photo session, we were off to meet the wedding guests at a nearby reception hall. Mrs. Bride, Sophie, set us all up in a huge limo bus, dubbed, the Magic Bus.
For the next 5 or so hours we spent dancing, eating some amazing Spanish tapas, dancing, drinking and toasting champagne, laughing, dancing, talking, eating wedding cake, and, well, dancing. I think that may have been the best time I have ever had in a social gathering. 😉 I'm not a dancer but I definitely made my rounds on the dance floor that night! Sorry to everyone that was made witness to that sight!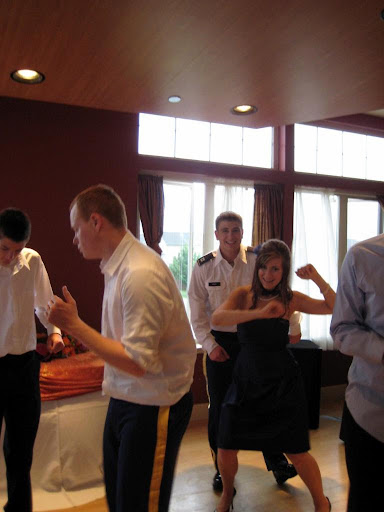 Around 11 pm (and still completely light outside, weird!) we were cordially kicked out of the reception hall. I'm pretty sure we rocked that place. Sophie, I just have one thing to tell you: Best. Wedding. Ever.
Alaska, day two we did some exploring. And yes, this was only day two. I love action-packed days. After grabbing some much needed coffee, we headed out to the Alaska Wildlife Conservation Center.
From every angle we could see snow capped mountains. Alaska has some amazing backdrops. The Wildlife Conservation Center is a mile and a half loop that you can either drive or walk through, that has rescued, mostly injured, animals. This, I imagine, is their take on a zoo. We were literally a few feet from the animals.
Beautiful.
So, that was day two. Hope you enjoyed it. I do still have more for ya, just waiting until I have all the pictures back from the various parties. 😉
If you haven't done so, check out yesterday's post. Shout-out to The Leukemia & Lymphoma Society (LLS) for helping those with Cancer, and their families. And for Team In Training(TNT) for allowing me to train for my second marathon (with them) and raise money at the same time. Create some good karma by donating now and helping me help those who need it. $1 helps more than you think. 😉
And one last shout-out to my awesome, selfless, garden-growing friend, Katie. She owns and operates a pretty awesome blog and was the first person to donate to fight Cancer! Thanks, Katie!
---