What I WISH I Ate Wednesday
Happy wonderful, sunny, glorious Wednesday.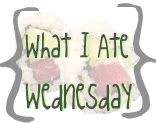 Since What I Ate Wednesday has been running rampant among blogs, becoming a deliciously viral epidemic in the food blog world, I am playing along with what I wish I ate.
Let's start with dinner. Dinner is usually my favorite meal of the day because this the basically the one meal a day (during the week) where I have time to flow those creative juices.
What on Earth are these, you may be asking yourself… why, they're Teddy Loafs, of course. My boyfriend had the… eh… interesting idea to make turkey meatloaf in the fun little cookie cutter shape of bears. Yes, I'm eating Bear Turkey Loafs, or Teddy Loafs. 😉
Partnered with a fresh greens-loaded salad and Basil Thai Spiced Hummus. Perfect.
Cracks me up every time I look at the picture. 🙂
Backup the time of day to lunch. Lunch is my leftovers meal. I won't show you any BYO Bagged food, but I will show you a fun side for the meal.
Cornbread Cupcakes!
With tomato paste swirled into the batter.
And organic goat cheese frosting.
Aren't they cute?!
To be completely honest, they tasted like crap. Flour-less cornbread recipes don't taste all that flavorful… but topped with creamy, spreadable goat cheese definitely did the trick.
Pretty, huh?
Now, leaving snacks out, there's only breakfast left to cover. Now, I'm pretending I have time on this lovely Wednesday morning, so I'd looooove to have my Banana Smashed Cheesecaked French Toast…
So warm and gooey and delicious…
And covered in sweet maple syrup…
Totally drool-worthy and filling.
And even better with champagne!
Brut. Yes, please!
Come on, you know you're wanting some delicious bubbly too.
So. Good.
Alas, it's Wednesday, I'm working, and it's about 9:30 am, my time.
But it's almost Friday…
And it's 5 o' clock somewhere.
What do you WISH you ate Wednesday????
---