When In Doubt
Make cookies.
There are SO many cookie recipes out there. I mean, besides the internet, cookbooks, and the throw-ingredients-together-and-go method, how do you chose just one to make?
It's not easy, my friends, being a food blogger on a quest to find the perfect cookie. Trial and error doesn't even cut it for all the variety the world possesses. Perhaps a lesson in cookies with the cookie monster would help…?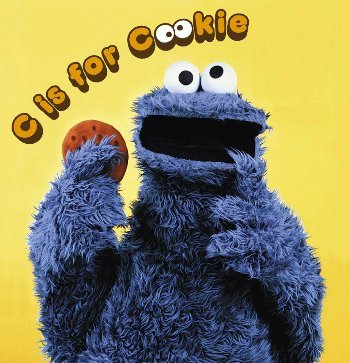 Craving cookies does not help in the aforementioned quest. So, I will be the one to single-handedly taken down the cookie industry by making every single cookie recipe out there, until I find the best one.
Ok, I'm totally lying. There's no way my wallet, waist, or attention-span would come anywhere close to fulfilling that mission. But I bet I can talk someone into doing it.
Alright, time to get to the recipe.
And this one comes from a variation on the Cookie Queen herself, Katie. And it was not easy to pick just one cookie (from her list of many) to make.
s But, as I knew I would someday be making more cookies, I decided upon her Flourless Peanut Butter Cookies. With my own changes, of course.
Flourless Sunflower Butter Cookies

1 tbsp chia flour (or ground chia seeds or flax) soaked in vanilla extract (below) for 2 minutes
1 tsp vanilla extract
1 cup sunflower butter (or nut butter of choice)
4 packets of a sugar sub + 2-4 tbsp agave (or 3/4 cup brown sugar)
1 tbsp maca or mesquite powder (just because)
dash of salt
Mix all ingredients together. Form into balls and put on a greased or parchment-lined cookie sheet. Make cross hatches with a fork and bake for 10(ish) minutes at 350 degrees.
a After done baking, remove from pan and cool before devouring.
They much liked being photographed. They told me so.
Deliciously crumbly, gluten free, dairy free, loaded with protein, and taste just like peanut butter cookies.
So, I guess the moral of this post is: When in doubt, make cookies. And when choosing which cookie recipe to use, steal a good one. 😉
Yeah ok, there really was no point to this post other than hosting a photo session for a yummy creation.
What are some of your cookie successes?
Care to share a recipe?