Good Things Come to Those Who Let Go
I've been feeling vibrant lately. Not sure exactly where that adjective came from but it definitely suits my mood. For the past few weeks things have just been working, fitting together like puzzle pieces. Things, events, people, have been literally falling into place.
The only difference I can think of, that would make the Universes align, is my willingness to let go of trying to make things happen.
It's interesting how life just steers you in certain paths… or winds you down the river… completely free from oars. (*can you name that familiar song.)
I do believe in fate… Every time, as brief as the time usually is, I stop worrying and stressing over every little detail, things start to happen. Wonderful, exciting, positive things. Influential and helpful people start to appear in my world, coincidences pop up like crazy, and I learn and grow and connect.
I foresee new and exciting things in my future, but instead of trying hard to reach out and grab them, I'm relaxing. Planning, yes, but inviting and urging instead of chasing.
For example, this coming Sunday I will be attending the Pebble Beach Food & Wine on behalf of Foodbuzz!!! *eeeeeeeeeeeeeekkkkkkkkkk!!!!!!!!!!!!!!* I'msoexcited!
I'm among the few who will be mingling with 25+ celebrity chefs, like Iron Chef's and other Food Network Stars like Tyler Florence, Masaharu Morimoto, and Michael Symon. There will also be over 300 wines "from 200 of the world's most prestigious wineries".
This weekend will be a hugely wonderful experience! Because everyone needs a partner in crime, I was given two tickets. Anne is my official partner in crime will be my beautiful foodie date.
Amazing food, glasses full of wine, and incredible company… I can't wait!
I can't even begin to express how vibrant, happy, and grateful I am for all that I have and have been given. I mean, who can really be sad or unhappy with delicious little coconut and chocolate covered balls like these…?!
Not I. 😉
And working out certainly helps boost those feel-good endorphins. With all the working out I do, I should be riding high on cloud nine. 😉
Would you like some happy-hormones, too? My personal training clients aren't complaining…
The Ab Intensive
you'll need a basket ball or medicine ball (any weight- or something along those sizes), a pull-up bar or something to hang from
Medicine ball mountain climbers (30-45 seconds, as many as possible)
Lying down toe touches holding medicine ball (30-45 sec., as many as possible)
Hanging knee raises (15-20)
Side plank hold (45 seconds each side)
Repeat 3 times
Trust me, your abs will thank you (after they stop burning). 😉
For exercise examples: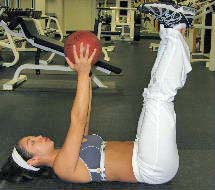 I hope you're having a positively VIBRANT day.
It's only fitting to share with you two quotes that were delivered to my gmail inbox yesterday, as I was writing some of this post. Tell me it's not fate.
Where in your life have you been feeling stuck?
What have you been pleasantly surprised by lately?
I've come a long way with my happiness and I have great days and ok days, some bad days and a few horrible days. That's life. In the end, it's your outlook that matters. Stuck or surprised, it's up to you. 🙂
If you need a little help, you can always:

Look for only Green Lights
Happy Wednesday!
Go enter the Rocco DiSpirito signed cookbook giveaway and vote for my cupcakes here!
HAPPY BIRTHDAY Mom and Sister!!! (same birthday!)