WIAW: Eating Out
Since I'm in Sedona this week, I'm switching the focus of What I Ate Wednesday to What I Ate Out Wednesday. Except this post isn't about what I'm eating in Arizona, it's about what I ate a few weeks ago in Berkeley with my friend, Matt. We took a trip to Berkeley to taste some amazing eats. And Amazing they were.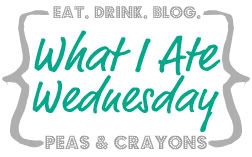 The day in Berkeley started with pizza. And not just any pizza, the highly rated Yelp-suggested, Cheese Board Pizza.
Each day the to-go part of Cheese Board serves one type of pizza, one type of salad (already packaged in a large or small container), and one type of dessert.
Pretty great idea, if you ask me. The line was out the door the whole time we were there and by the taste of everything, I can see why.
The pizza of the day was
Asparagus
Mozzarella
Montaban cheese
Garlic (loooooots)
Olive oil
Gemelata
Possibly one of the best things ever? Possibly…
And there was pie. Blueberry Rubarb Pie.
Wow.
Next stop, Cinnaholic! You may have seen this incredible VEGAN cinnamon roll shop (omg, omg, O.M.G.) from Amber's trip to Berkeley a few months ago. Trust me, if you're in the Northern California area you must try and stop here. Vegan or not, you'll die live eating one of these.
There are so many choices. Too many choices. I went with a simple one: Regular cinnamon roll, coffee frosting topped with fresh blackberries.
Absolutely out of this world. Warm, gooey, WONDERFUL.
I'm wiping the drool from the side of my mouth as I type this… what about you? Last, but not least, is a huge piece of coffee cake a friend of mine ordered when we went to brunch a few weekends back. Hobee's, a local chain in the bay area, hosts incredible breakfasts, many come with a side of coffee cake. With a giant glob of butter on top, melting into every cinnamon crumbled crevice.
I may have had a tiny bite. It was yummy. Too rich for me, but still good.
And there you have it, the Eating Out edition of WIAW. I didn't eat any of this on a Wednesday but rules are meant to be broken, aren't they?
Are you a rule breaker?
What rules are definitely meant to be broken?