Spicy Enchilada Stuffed Portabella Mushrooms: It's What's For Breakfast
Glad you liked the pictures from Arizona yesterday! So.Much.Fun.
Happy WIAW! You know what means right? Recipe? Yes.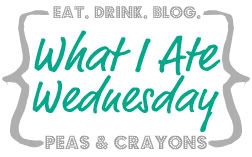 Breakfast is such an important part of starting your day, fueling your body, and energizing your mind. For me, it's best to make breakfast a nourishing meal that is sure to be filling as Hell.
Is Hell filling? I don't know. But this meal certainly is. And if it's one of my breakfast choices in Hell, I'm waiting in line for my plate.
I've been craving enchilada sauce lately. No idea why. There's just something comforting about warm red enchilada sauce covering… everything.
Take for example, my bacon blessed guacamole socca pizza. Now that's comforting… and delicious.
…………………………………
After purchasing some enchilada sauce, throwing a few breakfasty items into a bowl, mixing, stuffing, and popping all of it into the oven, I had created a masterpiece of flavors. Of colors. Of deliciousness.
Ready for Hell (aka: the oven)
Spicy Enchilada Stuffed Portabella Mushrooms
[a fiesta packed in a mushroom]
2 large portabella mushrooms, gently washed and de-stemmed
3-4 organic eggs
2 sausages (I used Trader Joe's organic chicken sausage)
1 gluten-free or sprouted whole wheat tortilla, cut into strips
1/4 cup cilantro, roughly chopped
1 zucchini, diced (or any other veggie of choice)
1/2 cup red or green enchilada sauce, divided
cumin, garlic and chili powder, salt, pepper, any and all other spices you wish, all to taste
Broil the portabella for 3-5 minutes on each side, just crisp them just a bit. Grease a Pyrex or baking pan and pour half of the enchilada sauce over the bottom. Place each mushroom onto the baking pan, de-stemmed side facing up. Pour the egg mixture into each mushroom, allowing the rest of fill around the sides of the mushrooms, in the pan.
Bake at 350 degrees F for 30 minutes or until egg mixture is bubbling. Remove and plate, topping each mushroom with cilantro hummus, more enchilada sauce, salsa, greens, or cheese; anything your heart desires.
Feel free to leave out or put in anything you deem necessary. This is an easy and "fancy" dish for entertaining those waiting to get their place in Hell, too.
Shall I see you there?
Thought provoking questions of the day:
Is it possible to lie without saying a word?
Have you done anything lately worth remembering? I can honestly and happily say that I have.