WIAW & Raw Vegan Nacho Sauce
Happy Wednesday! I'm participating in the much popular WIAW (What I Ate Wednesday) created by Jenn of Peas & Crayons. Today is a glimpse into my Wednesday eats and workout.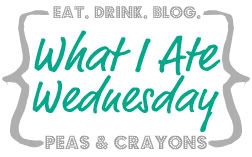 Actually, this is what I ate on Tuesday but for the purposes of posting on WIAW, we'll just say it's Wednesday. I'm currently in lovely San Francisco renewing my passport. Why you ask? Well, Saturday I'm leaving for a week-long vacation. I CAN'T WAIT. Any guesses where this trip shall be…?
Anyway, my day started with breakfast…
Breakfast (below) included lettuced topped with scrambled eggs, scrambled veggies, fresh cilantro, and chopped Trader Joe's Roasted Garlic Chicken Sausages. Coffee was definitely present. And I've decided that I love coffee oh so very much… it just tastes so good! I even drink decaf since I really can't handle the caffeine… but still, it's yummy. I know it's not wonderful for me, but I figure that I could have an unhealthier vise than coffee.
After enjoying my coffee and food I hit the gym for some much needed iron-pumping action.
Shoulders & Leg Day
20 minutes steady-state cardio then…
side dumbbell raise 3 sets x 15 reps
front dumbbell raise 3 x 15
dumbbell shoulder press 3 x 15
leg extensions 3 x 15
lying leg curls 3 x 15
TRX one-leg squats 3 x 12
leg press 3 x 15
standing calf raises 3 x 20
That's it. Simple. If you lift heavy enough, you're feeling this workout. This is directly out of the program I'm (still) doing, Body By Design program from BodyBuilding.com. A future post is in the works on this particular workout program.
Lunch! Random leftovers… a few pieces of Buffalo Chicken smothered with Dijon mustard. 🙂 No picture, but a link is provided!
Snacks included, but were not limited to, hard boiled egg, lots of veggies, and a large piece of Paleo Blackberry Bar. Above is the yummy picture of the blackberry bars… and the recipe is coming tomorrow! Trust me, they are nutritious and ONLY delicious.
Dinner was simple and small, as I just wasn't that hungy (probably from snacking my way through the day).
Sweet potato done Nacho's Style
1 sweet potato, steamed in the oven (wrap in tin foil, heat at 425 degrees until soft when poked with a fork)
1/4 cup Vegan Nacho Sauce (see recipe below)
1/4 cup salsa
green onions, sliced for topping
Slice the sweet potato, pour on the nacho sauce and salsa, top with green onions, eat.
Raw Vegan Nacho Sauce
1 cup yellow squash, chopped
1/3 cup nutritional yeast
1 tbsp miso paste (optional, if not using 1 tbsp soy sauce will work)
1 tbsp green onions, chopped
1 tsp yellow mustard powder
1 tsp chia seeds
1 tbsp lemon juice
1/2 tsp garlic powder
1/2 tsp cumin
1/2 tsp chili powder
Blend all ingredients in a blender and let sit for at least 5 minutes to thicken.
Yum.
Desserty item was fun and completely satisfying.
Leftover steamed sweet potato, cut into rounds, topped with almond butter and blackberries, and sprinked with cinnamon. Kinda like a peanut butter and jelly sandwich, only healthier and much more fun.
So, that's a wrap-up. What I Ate Wednesday has come to a close. Lots of wonderfulness is planned for tomorrow with Paleo Blackberry Bars. They're sure to satisfy.
Where is Lori Running this weekend? Guesses! (and for those of you who already know, shhhhhhhhhhhhhhhhh!)