WIAW Summer Love is Filled With Veggies
The thing I love most about summer is the abundance of fresh vegetables and fruits. I do enjoy the heat and sun but the freshness of the foods bring me joy. Joy, joy, joy.
Lately I've been filling my meals with a variety of vegetables and fruits, a protein, and some more veggies and fruits. This has been helping me eat less ('cause this is a problem I have- if the food's good, I'll eat it!), and it also give a fresh approach to meals. Not to mention, my garden is bursting with tomatoes, peaches, nectarines, zucchini, green beans, and other wonderful items.
On this episode of What I Ate Wednesday, I'm definitely enjoying my freshies.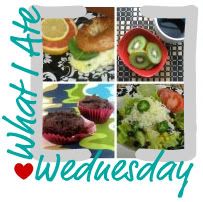 LUNCH
Curried Salmon Salad in a butter lettuce wrap
Cherry tomatoes, carrots, green onions, crisp, sweet red peppers, green grapes, and homemade pickles.
Mmmmmmmm…..
That was the highlight of my day but the rest of my meals went something like this…
BREAKFAST
Giant green smoothie
Coffee
More coffee…
SNACK
Usually more veggies, an apple, some kind of meat, the best ever baba ganoush
And/or Chia Almond Paleo Bars (bottom of the page and SO good)
DINNER
(Paleo) Thai Chicken Patties or something close. Delicious. Wonderful. Yummy. Filling.
DESSERT
Undecided but probably Greek yogurt mixture (protein powder, cinnamon, Stevia, and fresh berries)
Anyone have a dessert suggestion???
What did YOU eat Wednesday??