Body By Design Program Review
Yesterday I mentioned that I am trying out the Body By Design workout program. I'm just about done with week 2 and so far I'm loving it. But what's not to love with exercise, right?
Body By Design is a program, and book, from Kris Gethin the Editor in Chief for BodyBuilding.com. Now before you tisk me and tell me that you don't want to have a body builder's bulky body, let me explain a few things. This program is geared toward anyone in any shape at any skill level with any goal. You can follow this guide to get into lean, sculpted shape, super buffed up muscles, or just learn how to do exercises properly (with learning how to eat healthily). Even if you're already in great shape, this program will just give you a new routine and maybe a new way to view exercise.
For the exercise part of the program, I only lift three days a week, no more than an hour each day. The entire book program is 12 weeks long, with three different phases, each lasting different amounts of weeks. Simple enough, right? Here is what my week of exercise looks like:
Monday: 20 minutes cardio + 45 minutes weight lifting
Tuesday: 20-30 minutes cardio
Wednesday: 20 minutes cardio + 45 minutes lifting
Thursday: 20-30 minutes cardio
Friday: 20 minutes cardio + 45 minutes lifting
Saturday + Sunday: 20-30 minutes cardio
I love this schedule. With the break in between lifting days I'm not feeling like I'm living in the gym. Also, my body has a day to recuperate and regenerate from the stress of heavy weight lifting. And the cardio is short and sweet.
So, that's a glance at the exercise portion of the program, now it's time for the nutrition part explained. Being that nutrition is the biggest piece of the health/weight loss/body changing puzzle, this information is key to obey.
During the next 12 weeks, I'm going to try to follow the program pretty closely. The fundamentals of the nutrition portion of the program is as follows:
Eat every three hours, or about six times a day
Eat whole foods, supplementing protein shakes only as needed
Portions are important (the size of each portion of the right proteins, fats, and carbohydrates)
Drink one gallon of water a day
No starchy carbs/veggies after 4 pm (or at least SUPER low amount)
I'm not going to even lie, the rules are easy. So easy they prove results. I'm just going to have to follow them to get those results- that's where the challenge steps in.
The book obviously goes into specifics on what exactly to eat and at what portions, along with some other helpful tips on nutrition and such. I'm not posting these for the simple reason that it's a book and they would probably like a profit, not just me divulging all their secrets. Yet…
Although, I must say, I read the entire book in about 3 hours while lying at the pool (after my pool workout, of course) and it's incredibly motivating, well written, and just a well rounded program. If you just can't wait for me to post more on this book, this review does a great job of summing up every aspect of the program.
I'm looking forward to letting a few more secrets of the plan slip in the next few weeks as I get more into the results. Because results will come! I'm dedicated. Yes, I'm only human and yes, I'm not going to be completing this plan perfectly, nor do I want to. I went wine tasting last weekend and will probably celebrate finishing Half Dome this Saturday (oooh!!! Info in a minute!) but for the most part, I'm motivated and ready to play with my body to design some changes.
Speaking of celebrating Half Dome- I'm haking Half Dome in Yosemite tomorrow!!!!!!! Can you tell I'm excited?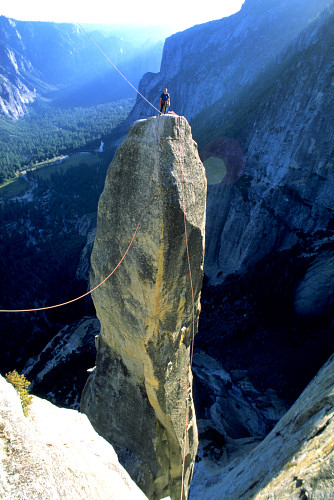 Extremely last minute but I'm driving there tonight and heading out super early tomorrow morning. You'll hear all about it when I return but while I'm there, I've got a wonderful treat to share with you! Not only you, but all the people I'm hiking with will get a taste of tomorrow's nourishing, delicious, energizing Survival Bites.
Have you ever followed an exercise program that you found motivating and helpful?
Have you ever followed an exercise program that just plain sucked?
What is the best hike you've been on? Why was it the best?
Have you hiked Half Dome or anything "famous" before?
I have! Remember the Grand Canyon?