Paleo Plum and Peach Pie
If there's one thing I know, it's that scrawny guys know how to eat. Not that Larry is scrawny or anything, he just has some great recipes…
I'm also not saying he's not strong either. He does CrossFit, ergo, he's a powerful dude. I bet he can relate to at least one of the 10 things I've learned from CrossFit.
I'm also not saying that just because I have been taking away most grains from my diet that I can't indulge when indulging needs to be done. I can. I will. I did.
I, once again, am not saying that I wouldn't eat this perfect, plumy, peachy, Paleo pie for breakfast, alongside a glorious cup of coffee. I won't say it because it's not true that I didn't. I did. And I loved each and every bite. And so will you.
Make this now! For What I Ate Wednesday, of course.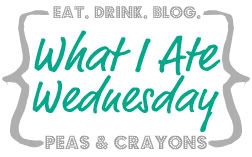 I borrowed this recipe from ScrawnyWOD's Cin-Ful Paleo Peach Pie. It's delicious. I used the Paleo version of topping for the pie crust.
Once you have finished the crust, get started on the plum and peach filling:
Paleo Plum and Peach Pie
[gluten free, dairy free, Paleo, and makes one 9-inch round pie]
1 Paleo Pie Crust (recipe here)

5 cups of sliced, ripe plums and peaches (keep the juices)
1/3 cup coconut flour (or vanilla protein powder!)
1/4 cup NuNaturals Baking Blend (or honey or maple syrup)
1 tsp cinnamon
1/4 tsp salt
Reduce the heat of the oven to 375 degrees.
Combine all ingredients in a mixing bowl, along with the juices. I let mine sit for 3 hours prior to using, causing the flavors to meld together. Pour into baked pie crust (the one you made from above) (or . Use the extra crust to crumble on top of plum/peach mixture. Place the pie back into the oven and bake for an additional 15 minutes or until the crumble on top has browned slightly.
I obviously wanted an A La Mode pie so I opted for a giant blob dollop of Greek yogurt with cinnamon sprinkled on top. Truly wonderful… on a Wednesday.
What did you eat on Wednesday?
Do you have an abundance of fruit in your hands (kitchen), too??